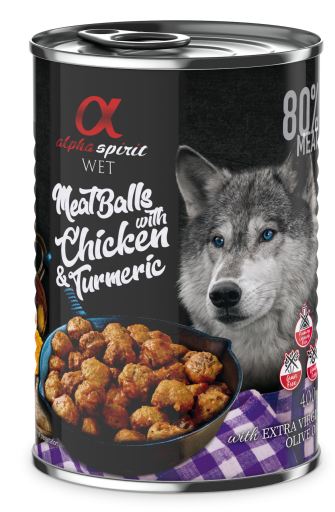 customer_also_bought_ani
Traveness

Traveness
Description
Chicken and Curcuma Meatballs Alpha Spirit
COMPLETE FOOD FOR ADULT DOGS (over 1 YEAR)
CHICKEN AND TURMERIC MEATBALLS
Colouring free / Flavouring free / Grain free / Gluten free.

-Composition: Meat 80% (chicken meat 80%), potato starch, pea protein, turmeric (0.1%), minerals, extra virgin olive oil (0.08%).

-Vitamins: vitamin A (4,100 IU/kg), vitamin D3 (250 IU/kg), vitamin E (35 mg/kg), vitamin B1 (3.5 mg/kg).

-Oligoelements: Zinc (zinc sulphate monohydrate) (16 mg/kg), manganese (manganese sulphate monohydrate) (3.5 mg/kg), iodine (potassium iodide) (0.8 mg/kg).

-Analytical constituents: Crude protein 9.3%, crude fibre 0.5%, crude fat 5.5%, crude ash 2.4%, moisture 76.4%.

-Instructions for use: Consult the table of daily feed requirements as a reference point. Always leave fresh, clean water available for the pet. Store in a cool, dry place away from sunlight. Suitable for dogs of all breeds. The product is ready to use, there is no need to heat it. Once opened, it can be kept for 2 to 3 days in the refrigerator.
Ingredients
Chicken and Curcuma Meatballs Alpha Spirit
- 100% Natural Ingredients.

- Grain Free.

- Gluten Free.

- Meat Meal Free.

- Rich in Omega 3, Omega 6 and Chondroitin Sulphate.
Features
Chicken and Curcuma Meatballs Alpha Spirit
Reference

8437013576826

Weight

400 GR, 4,8 kg

Brand

Alpha Spirit

Physical Activity

Average

Nutritional Conditions

Natural

Age

Not Specific

Flavor

Chicken

Units

8

Dog Size

Not Specific

Label

Miscota Naturals Guaranteed

Type of Snack

Semi-humid

Quantity

400 gr

Made in

Spain

Manufacturer

Alpha Spirit,ESP30000336,Amiguitos Pets And Life, S.A. POLIG. IND. SAPRELORCA, PARCELA G-1. Buzon Nº 8 (LA TORRECILLA)- MURCIA (ESPAÑA),

Producido en
Customer Reviews
Chicken and Curcuma Meatballs Alpha Spirit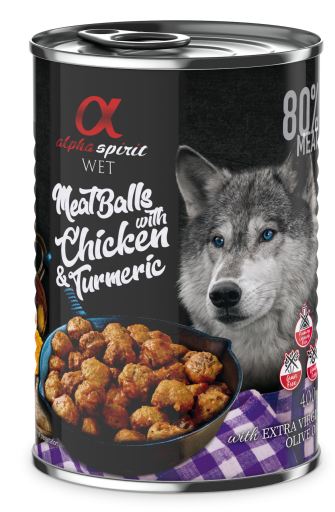 Est marca es una maravilla , para mi una de las mejores , las albndigas para en de consumo humano. Es de las comidas en lata que ms adoran mis perras